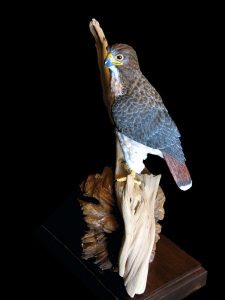 Rob had a long and distinguished career in the National Parks serving as a superintendent of five of them during his career including Palo Alto Battlefield National Historical Park, Saguaro National Park, Everglades National Park, Big Bend National Park and Grand Canyon National Park. He retired as the Regional Director of all the national park areas in Alaska and enjoys his retirement and woodcarving in Tucson, Arizona.
Saguaro National Park in Tucson, of which Rob was in charge in the mid-80's, has a non-profit "Friends" organization dedicated to helping the National Park Service carry out its mission of preserving and protecting the unique Sonoran Desert ecosystem found within this magnificent desert park. The Friends of Saguaro National Park (FSNP) assists with that mission by securing funds and volunteer support that helps the National Park Service achieve the mission of preserving these unique desert resources for future generations of Americans.
Each year FSNP hosts a major fund-raising dinner and auction to increase the funds that they annually donate to the National Park Service. Because Rob was once superintendent of this special place, he has a special fondness for the work that FSNP carries out, and this year (2016) donated a carving for their 18th Annual Friendship Dinner and Auction.
This carving, "Red Rock Red -Tail" was a 1/3 life-size carving of a Red -Tailed hawk, an iconic bird of the Sonoran Desert. This year's event was attended by over 300 guests and was the largest event to date. Over $60,000 was raised to assist projects at Saguaro National Park. The sculpture found a home with a special collector whose bid was donated to FSNP to carry on their important and very special work.
Rob encourages anyone and everyone to join him in providing support for the Friends of Saguaro National Park. More information about the worthy work of this organization can be found at www.friendsofsaguaro.org.