Mercado de Baca, Tubac, AZ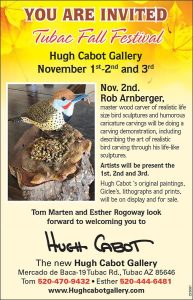 Rob joins a group of noted western artists in this famous gallery in the heart of Tubac, a noted artist community in southern Arizona.
Tubac is a favored art destination for tourists and collectors located between Tucson and Nogales, AZ. It is known for its seasonal art festivals that attract thousands of visitors.
The Tubac Fall Festival, held annually the first weekend of November, will feature Rob's bird sculptures and humorous caricatures amongst other art from noted western artists.
On November 2, 2019, Rob will be at the Gallery doing a carving demonstration, including describing the art of realistic bird carving through his life-like sculptures.
Boston born, Hugh Cabot was one of America's foremost artists. Working in all media he exhibited nationally and internationally. Cabot lived and worked in Tubac, Arizona, where his studio and gallery were located for 36 years.  
He was notified in January 2005 that he was now and is in perpetuity an "American master painter." Listed in Who's Who in American Art, Who's Who in International Art, Who's Who in the World, and Who's Who in America, his work has been exhibited in most major museums of the world and in every city in the United States.
Hugh Cabot was the official combat artist for the Korean war. His war art hangs in Washington DC and belongs to the entire nation.
Hugh Cabot has passed away, but he left behind an incredible gift for the public to view and purchase at the Hugh Cabot Gallery in Tubac Arizona.
The gallery carries a large collection of his original work, gelees, lithos, prints, and original paintings. The gallery website is HughCabotGallery.com which is presently being updated to include Rob's work.